UGANDA
We work with one partner in Uganda: Link To Progress (LTP).
Current projects
Our partner Link to Progress [LTP] has been operating in northern Uganda since 2003.
Here, LTP works on access to and improvement of the quality of fresh drinking water, toilet facilities and hygiene. LTP's role is to prepare each project in the various villages with activities such as contact with local authorities, determining priorities, training in maintenance of the drinking water installation, optimising hygiene [toilet facilities, washing hands, etc] and operational management.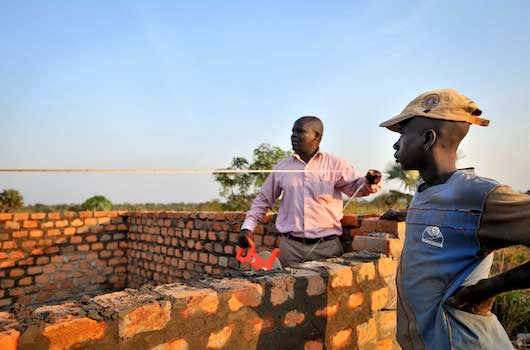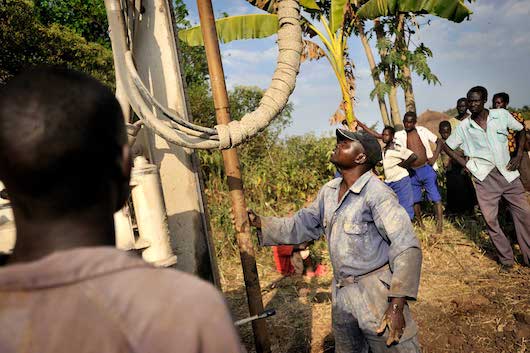 LTP was founded by TGS Nederland, which merged with FEMI in 2016. It is now a named fund under the FEMI umbrella, with FEMI fulfilling the role of chair on LTP Uganda's local Board.
Along with the existing activities performed by LTP, the overall approach will shortly be investigated to consider a more centralised strategy to help improve the outcome of current projects.
For more information: www.linktoprogress.org
Zero-Kap projects in Uganda
IGEDA – Kasese
A Loan to Ikongo Gender and Development Agency in Kasese. Initially for the production of mushrooms and maize. The production of mushrooms has ended because of a lack of knowledge and of lack of demand.
IMDC – Kasese
Loan to Integrated Development for Marginalized Community for breading poultry and pigs. IDMC sells chicken, eggs and pigs to farmers in the Kasese district. The loan is also for the extension of the pens and the increase of the quantity of animals.
Menoda – Wandeeya
Loan to Mesopotamia Notre Dame Rural Development Association in Wandeeya (North-West of Kampala) for financing a Maiz Milling Machine. This machine creates a fair maize price for the participating farmers and delivers a higher quality of maizeflour.
Life Link Foundation (LLF) – Bundibugyo
A Loan for a MFI which grants loans to pour women who grow cacao and other agricultural products to increase their production. The main reason for this loan is to put organizations out of action which try to charge usury to individual farmers. Also, this loan decreases the propagation of HIV/AIDS because women can be forced to sexual reciprocation in return for a loan.
RET-MF – Mulagi
Loan to Rural Empowerment Trust Microfinance for hundreds of farmers so they can expand their business.
VAD Micro-finance – Nsangi en Wakiso sub countries
Grants loans to SACCO's, agricultural groups, individuals and rural schools. By the end of 2015 at least of 200 farmers have benefited of the production increase.
MIWODIF – Mitooma
Loan to boost income of VSLA members by financing production improvements of coffee growing and diversification in suitable cases in the Mitooma District.
NIADS (NKURUBA INTEGRATED AGRICULTURAL DEVELOPMENT SERVICES)
Loan to promote rural animal husbandry and fish farming to reduce poverty and malnutrition.