THE NETHERLANDS
We work with one partner in the Netherlands and participate in the 'Trauma and Health' workgroup
Het Vergeten Kind
Het Vergeten Kind is an organisation which endeavours to help the more than 100,000 children who grow up in families experiencing multiple issues, such as addiction, mental disability, psychological problems and/or living below the poverty line.
Children in these so called multi-issue families can be very vulnerable. For around 55,000 children things go so badly they are no longer able to live at home.
Children who endure neglect and/or abuse can suffer from the experience for the rest of their lives. The consequences are often severe and include negative self-image, extremely reduced or no self-confidence, serious behavioural problems, addiction, personality disorders and criminal behaviour.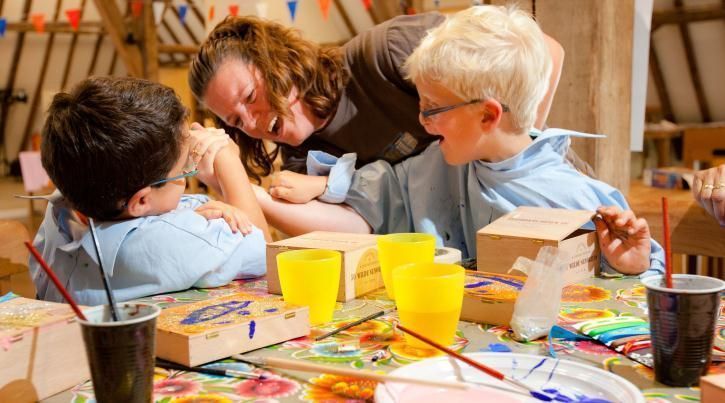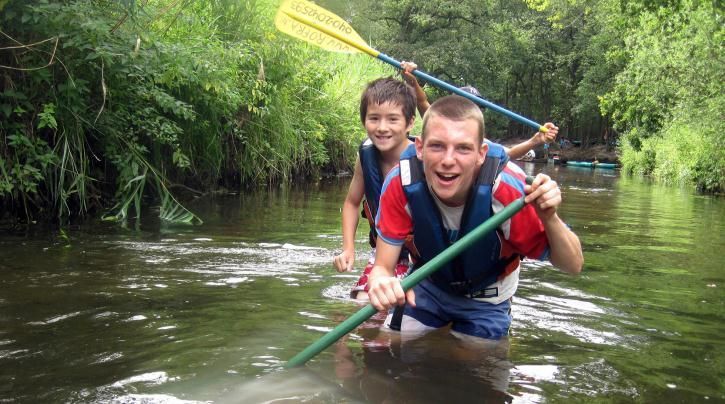 Het Vergeten Kind joins battle in the Netherlands to create a country in which every child really does feel well, has the opportunity to develop and becomes a fully engaged participant in society. They organise activities and projects which have a direct positive influence on the lives of vulnerable children. They managed to reach 17,276 children with their direct help programme in 2016.
Examples of activities include the 'Heppie' holidays and weekends, which take place in Hotel Heppie in Mierlo among other locations. This is a true children's paradise, featuring a play forest, a theatre, a go-kart track, a Cruijff Court, an indoor playground and a campfire spot. Hotel Heppie was realised with contributions from FEMI. Thanks to FEMI's support, every year hundreds of kids and young people arrive at Hotel Heppie to play together, indulge in some positive attention and enjoy a carefree and fun holiday.
The Trauma and Health workgroup
In the autumn of 2015, touched by the significant refugee problem, a number of Dutch equity funds sought to collaborate with one another. This exceptional cooperation between twelve funds launched six themed workgroups on 2 November 2016. The themes are; Trauma and Health, Education, Activation and guidance towards work, International projects, Imaging and Smaller projects. These workgroups are supported by the Fondsen in Nederland (FIN) sector organisation.
Femi occupies the chair of the Trauma and Health workgroup. Along with FEMI, the workgroup consists of the RC Maagdenhuis organisation and Projecten in Nederland (PIN).
Together the three funds will contribute € 490,000 to a joint budget, to be managed by the RC Maagdenhuis organisation over three years. The following projects will be financed from this budget:
Stichting ASKV – Steunpunt Vluchtelingen / ARQ – Psycho trauma Expert Group, 'Preventative Chain Approach to Psycho trauma' Pilot. Objective: Early recognition of psychological complaints and giving appropriate help; continuity in care, accommodation and guidance towards a future in the Netherlands or elsewhere. Running time: April 2017 – May 2019 (2 years)
Dokters van de Wereld – Zorgbus Project: Low threshold psycho-social support for undocumented migrants. Dokters van de Wereld offers low threshold support in a Zorgbus ('care bus') to people without documents and who do not qualify for care via GGZ (Dutch Association of Mental Health and Addiction Care). This care consists of a series of short meetings, focused on increasing people's resilience and reducing stress. People can also be referred on to other channels if their complaints escalate. Running time 2 years: mid April 2017- mid April 2019
Kindertelefoon; project focusing on wellbeing and psychological health of young refugees. Kindertelefoon organises introduction workshops where young refugees (13-18) come into contact with peer volunteers, put their questions and/or generally get things off their chest, without the intervention of often unasked-for and unwanted 'official' assistance. There is also a digital channel in the offing, particularly aimed at this target group.
Running time 2.5 years, start September 2017 – end December 2019
Wereldvrouwenhuis Mariam van Nijmegen (WVH)
This project is geared to improving the skills and knowledge of volunteers regarding the early recognition of psychiatric issues. It also organises group-focused psycho-education for the benefit of homeless women who have no residence permits. These women can live in the two homes run by the WVH volunteer organisation for up to a maximum of 6 months.
Running time: 18 months, start September 2017 – end March 2019
PARLAN/ GGZ Noord Holland Noord – Classroom Based Intervention for young people who have suffered traumatic experiences
The CBI method (Robert Macey) is a group intervention for children and young people who suffer serious damage resulting from trauma. The children are taught to increase their resilience by repairing trust and reducing fears, mood swings and the symptoms of anxiety. The group meetings are held in their own language and reach about 100 to 150 young people at ISK schools in Alkmaar and Hoorn.
Running time: October 2017 – December 2018 (15 months)
 Jongerenhuis Eindhoven – 'Living room' for unaccompanied foreign minors
The 'living room' is a safe space where asylum seekers, residence permit holders and neighbours can congregate to develop mutual activities. The project focuses on providing courses to volunteers and unaccompanied foreign minors. The courses are run by a GGZ (Dutch Association of Mental Health and Addiction Care) therapist and offer low threshold, early access to psychological help. Young traumatised refugees can also learn a trade (a form of occupational therapy).
Running time: 2 years (June 2017 – July 2019)